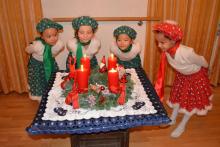 During the past weeks we have read a lot, heard a lot and reflected upon a lot of things. I wish you with all my heart that these lines may have helped you to get to know Jesus in a better way.
While Mary had been pregnant with Jesus she visited her cousin Elisabeth. Among others this is what she said at that meeting:
For the Mighty One has done great things for me holy is his name. His mercy extends to those who fear him, from generation to generation. He has performed mighty deeds with his arm; he has scattered those who are proud in their inmost thoughts. He has brought down rulers from their thrones but has lifted up the humble. He has filled the hungry with good things but has sent the rich away empty. (Luke 1, 49 – 53 NIV)
The birth of a child always is something extraordinary. Everybody who has children himself will confirm this. After the baby has arrived it is a small helpless human bundle that has to be cared for. The baby Jesus, too, had to be fed, and washed, and needed to change diaper, and for sure Mary and Josef did this with loving care.
When we see a young baby we do not know what some day it may turn into. But one thing is definite: The more love we give to the baby the stronger a person it will become ready to face the storms of life.
Love is the most important thing in live, Jesus says. As Christmas is the day where we celebrate the birth of Jesus, we also call it Feast of Love.