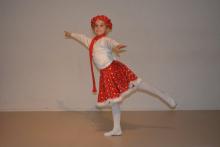 In Germany today is the day of Santa Clause.
In Jerusalem during the first time after the first Pentecost a congregation of people who believed in Jesus had come to exist. What this precisely means we will talk about later.
This congregation grew constantly, and there had been rich and poor people in it. In order that all of them would always receive an equal amount of food they decided to announce seven deacons. These were brothers who were responsible for distributing food, and for all kinds of other services. This is how it had all started:
So the Twelve gathered all the disciples together and said, "It would not be right for us to neglect the ministry of the word of God in order to wait on tables. Brothers and sisters, choose seven men from among you who are known to be full of the Spirit and wisdom. We will turn this responsibility over to them and will give our attention to prayer and the ministry of the word."
This proposal pleased the whole group. They chose Stephen, a man full of faith and of the Holy Spirit; also Philip, Procorus, Nicanor, Timon, Parmenas, and Nicolas from Antioch, a convert to Judaism. (Acts 6, 2 – 5 NIV)
From the very beginning onwards it had been very important to the members of the congregation that all of them were treated equally, and they tried hard to keep this up. Among the first seven deacons there had already been one named Nicolas.
In the course of the centuries, however, it has turned out that somehow they did not really manage to distribute their wealth so that all of them had the same.
In the beginning of the 4th century there had been a bishop in Myra with the name Nicolas. By the way, the Greek name Nicolas mean "the victorious among the people". The story goes that this Nicolas gave all his money to the poor and especially to the children.
Today on December 6th is his name day, and all over Germany you can find St. Nicolas walking down the streets and visiting the houses and the children. He asks whether they behaved nicely, and gives them little presents.
In the 20th century then consume industry turned St. Nicolas into Santa Clause who is supposed to bring the Christmas gifts to the children.