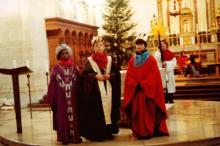 The multitude of camels shall cover you, the dromedaries of Midian and Ephah; all they from Sheba shall come: they shall bring gold and incense; and they shall show forth the praises of the LORD. (Jesaja 60, verse 6)
Now when Jesus was born in Bethlehem of Judaea in the days of Herod the king, behold, there came wise men from the east to Jerusalem, Saying, Where is he that is born King of the Jews? for we have seen his star in the east, and are come to worship him. Mathew 2, 1 – 2)
On January 6th we celebrate Epiphany. Do you know the original meaning of this day? In our times, if we at all think of anything religious, we mainly think of the three wise men. In the Old Testament already we find passages that point to these men who will once come in order to pay homage to the King. In the Gospel of Matthew we find the complete story about these men.
Isn't it astonishing? There were wise, and wealthy men that studied the stars. Just because they found a new star did they start a long and difficult journey to a far away country. Then they came to the town Bethlehem, and indeed there they found a new born baby.
What had there been so special about this baby? How did the men know that precisely this baby is the King? Could it be seen? Well, hardly. When you see a small baby that wears nothing but diapers you do not know whether this child has royal blood or is the offspring of beggars. Yet the men definitely knew that precisely this baby is the King. They worshipped him and gave him worthy presents.
Still today, more than two thousand years later we celebrate Christmas. It has even become the biggest festivity of it's kind world-wide. Do we realise that the original reason for this festivity is the birth of the child Jesus? Now that gradually all these parties and decorations are over and life is going back to normality let us reflect on this Jesus. Could it be that Jesus is of central importance especially for your life?